Hi!
We recently upgraded from 1.2 to 2.3.
Everything seems to work fine but the LDAP layer changed a bit and we have some trouble.
The users are authenticated properly from the LDAP database and the search seems to work as expected.
However there's a few things I do not understand.
Indico seems to interpret the "external" users in the search as any user not present in the postgres database. We didn't test it yet but my understanding is that the user is added to the database when they log in for the first time.
However, we manage groups as local indico groups and we would like to add a user that did not yet login to one of the indico local groups.
Assume there is a user E that is external and has not logged in yet.
We do not see it in the search button for adding a member to a group.
We can search in the Users menu for external users and we see him greyed out as in the attached picture (the first user in blue is in the database already, the latter in grey is not).
We do not want to create a local user for each ldap user. One cannot select such user to add him to the database, or at least I see no button to do that.
So my question is, is there a way to add such users without asking them to login?
They have a specific objectClass in the LDAP database (see filter in the attached config chunk), so it could be done with some code. But before writing some custom hack I'd like to understand whether this is possible in Indico or we are doing something wrong with the config. I also attach the config text.
We do not allow users to create local accounts.
In the attached config I changed title: 'User' because I wanted it to show up as such in the login form instead of "LDAP". I don't know if this affects anything.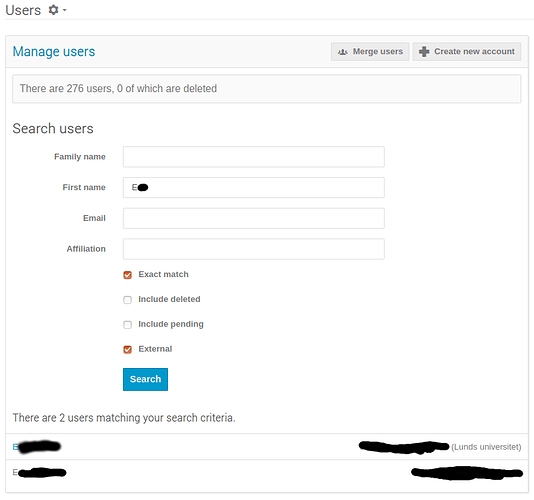 ldapconf.zip (681 Bytes)