Hi,
On our conference, I've noticed a strange behaviour of the author list on a few contributions.
On some contributions, the author list was alphabetically sorted despite the fact that the abstract was submitted with a specific order imposed by the submitter.
When I checked the original abstract, I realized the author lists were manually sorted when submitted but somehow became alphabetically sorted in the contribution.
Abstract: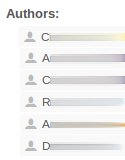 Contribution: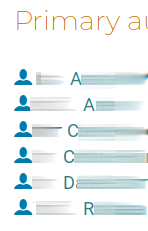 To fix the ordering I have to disable alphabetical ordering so that I can reorder the authors as the submitter intended.
I am trying to figure out what causes this. So far I have found a few contributions that showed this effect (author lists now fixed):




I thought that the problem may be caused by the "β" character that is used by all of these authors in the title (and is indeed how I found 3 out of 4 of the examples above). However, I have found that there are many other authors who have used the β character but their contributions show a correct author list ordering, so I haven't yet got a good diagnosis of why it is happening.
Is there a method to search/filter for contributions that have alphabetically ordered author lists?