URL: /
Criterion: 2.4.1 Bypass Blocks (A)
Users that wish to navigate through the page sequentially either using a keyboard or some other mean will sometimes want/need to skip the blocks of content that repeat on every page (e.g., headers, language selectors, etc.).
Normally, a bypass blocks link is added to the page such that it is revealed only on keyboard focus or to screen readers and similar accessibility technology. Here are some examples of this mechanism: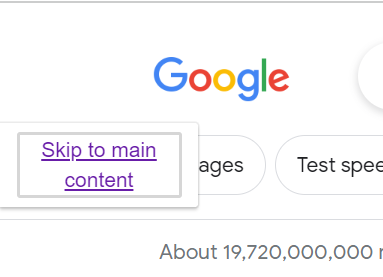 I intend to add a bypass block link that points to a element that has an id of main-content. This will allow us to mark an arbitrary element on the page as the bypass block link target depending on the content.