URL: /
Criterion: 2.1.1 Keyboard (A)
Elements that are intended to be interactive should use the tags that most closely match their intended behavior. Most native form controls have various behaviors and properties that enable the users of assistive technologies to take better advantage of the UI. When we use elements that are not actual form controls, we must ensure that they enable at least the same degree of interaction as the native controls of the same role (usually this is just additional work that is entirely avoidable).
In the "Navigate to a category" modal, we have buttons that are not keyboard-accessible nor keyboard-operable because they are implemented using a SPAN tag. This prevents the user from:
Focusing the button
Activating the button using Spacebar
Activating the button using Enter/Return
Having the button announced as a button by the screen reader
And so on.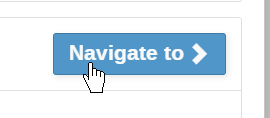 Most of the accessibility issues with this button are addressed by simply changing its markup from SPAN to BUTTON.
However, given the semantics of the list, I intend to wrap each item in the list with an A tag instead, and leave the button as is, as decoration. Since these links would then lead to appropriate sections of the site, we will be able to leverage the default browser behavior and avoid additional scripting. I will mark the "Navigate to" "button" using aria-hidden=true as it is non-essential information that does not contribute any additional instruction over the fact that the item is a link.
Additionally, I could also remove the "Navigate to" entirely, and style the item labels to look like proper links.