Hi,
I am setting up the abstract submission and have selected the options "allow speaker" and "require a speaker".
I did some testing with users. The feedback for the process is generally positive, but there were a few areas of confusion.
One of the key areas of confusion seems to be about what the difference between "authors", "co-authors" and "others" are. Can the original concept behind these categories be clarified? It would be nice if there can be some control to hide the "others" or "co-authors" category. Right now my workaround is to hide the gear/petal-shaped icon as well as the co-authors section using CSS.


During the testing, one of the users also reported a behaviour that I did not understand, namely that any authors in "others" must automatically be selected as a speaker. Is this intended or a bug?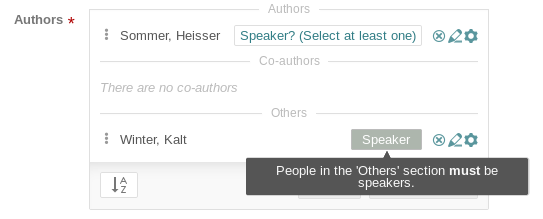 One person expressed confusion that even poster presenters are "speakers". It would be great if it is possible to change the word "Speaker" into "Presenter" in the interface. Can you point me to which file should be customized?
Thanks for all your excellent and very speedy feedback so far!
Best,
Ying